The Green Fleet represents the world's first eco-friendly HPMO (High Performance Mobile Office®) developed by the Miletus Group for Jobsite Mobile Offices. Jobsite Mobile Offices will feature the new Green Fleet HPMO at the BCA Construction and Design Expo – September 28-29, 2011 – Memorial Coliseum Exposition Center – Fort Wayne, Indiana. The 1260 HPMO will be located at the show entrance and will be fully furnished, manned, and powered.
Designed by the modular architecture specialists at Miletus Group, Inc., the HPMO installation is a pinnacle part of Jobsite Mobile Office's 40th anniversary celebration taking place at the show.
About the Green Fleet HPMO Design
"We are proud of the work we did in partnership with Jobsite," states James B. Guthrie, AIA, Miletus Group president. "The revolutionary HPMO uses at least one third less energy than conventional mobile offices. Some customers are reporting energy savings of well over 50%. This new thinking in mobile office design also includes a high level of recycled materials and is 100% recyclable at the end of its long life cycle. Our team spent a great deal of time analyzing the best sustainability practices in the building industry and then found ways to apply them to the mobile and modular office-building sector. Little will appear changed to office occupants in terms of the general layout, construction, and convenience of the high performance units. However, noticeable differences will appear in the form of substantially lower utility bills and significantly higher levels of comfort during hot summer and frigid winter months," says Guthrie.
---
Inside Indiana featured Miletus Group's expansion to the Chicago area and quoted president James Guthrie stating, "The move is a good fit because of its proximity to the company's headquarters and history of architectural innovation."  For more on the move, please link to the article here to read on.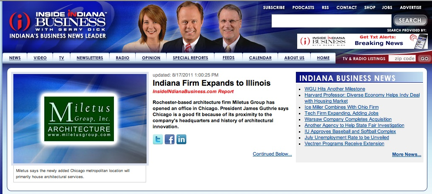 ---