AIA Meeting August 2, 2011 in San Diego
Find out more about the latest methods in modern, modular construction. It's not just theory; it's winning prestigious design awards for architects interested in sustainable building, cost efficiency and quality control.
Come to the next meeting of the Modular Architecture Brown Bag group to hear Eric Naslund, FAIA of Studio E Architects discuss his project: High Tech High. Eric will be sharing his experiences using modular construction in his COTE award-winning design.
Modular Brown-Bag Roundtable
August 2, 2011
12:00 pm – 1:30 pm
AIA San Diego
233 A Street, #200
San Diego, CA  92101
Phone: (619) 232-0109
Email: info@aiasandiego.org
Increasing interest and the recent growth in the US and abroad of new construction substantial modular buildings, and the industries surrounding it, signifies a significant change on the architectural landscape. At the National AIA level, on the new AIAKnowledgeNet, The Modular and Prefabricated Architecture Group has been established to provide a central location where architects and allied professionals can share, learn and promote state-of-the-art offsite construction to new architectural levels.
AIA San Diego invites you to join your peers who share your interest in this topic at a local Brown-Bag Roundtable. No RSVP is necessary. This is a free, member-only, bring-your-own-brown-bag event. Food vendors are available in the building for those wishing to purchase their lunch.

High Tech High
Jim Brady Architectural Photography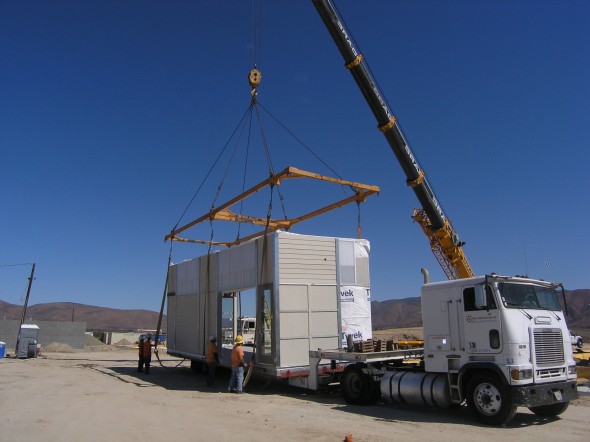 High Tech High Modules
© Miletus Group, Inc. 2011
---
Miletus Group has officially announced the opening of its new office in Chicago, IL at 2823 N. Milwaukee Avenue, Suite E, (312) 265-6447. The new Chicago metropolitan location will house architectural services, building on the continued success of the Miletus Group management, design, and production operations in its Rochester, IN headquarters.
"The new design office gives us a great new platform to reach out to the entire Chicago metropolitan market," says James B. Guthrie, AIA, president of Miletus Group, adding, "We have exciting plans for innovative, large-scale modular solutions involving hotel, apartment, and healthcare facility projects," he further explains. "Chicago is a natural market for substantial building in these sectors, making it a perfect fit for our future growth strategy. In addition, Chicago is my hometown, so I very much look forward to working there with our staff of talented architects."
Chicago was selected as a key growth market, according to Guthrie, because of its proximity to the company's production facility in Indiana, and because it provides a large market area with a history of progressive thinking in terms of architecture and building. Guthrie points out that early in the twentieth century, Chicago-founded Sears, Roebuck and Co. sold over 70,000 precut and prepackaged homes through their mail order Modern Homes program, which allowed customers to choose a house to suit their individual tastes and budgets. At approximately the same time, he goes on to explain, Frank Lloyd Wright introduced his textile block Usonian home concept to demonstrate that exceptional quality and design, using prefabricated components, can be made available to the masses.
"Conceptually, we stand on the shoulders of such Chicago icons as Sears and Frank Lloyd Wright, who paved the way for modular architecture," Guthrie states. "Today, we are seeing a resurgence in modular architecture," he continues. "The interest is driven in small part by economics, but more so by a desire for greener construction practices, creative design, and the caliber of high quality production that Miletus Group consistently delivers and will now extend into the Chicago market."
---

Miletus Group's innovative Hurricane Katrina housing solution, named The Shotgun Project, was featured in the May/June issue of Residential Architect. According to Residential Architect, "Hurricane Katrina and the ensuing flooding left New Orleans with a significant housing crisis that has not yet been resolved. Rochester, Ind.–based design/build firm Miletus Group, which specializes in prefab and modular systems, has developed a prototype that may help."
"These ingenious modular structures are substantial homes," Miletus president James B. Guthrie, AIA notes, "fully compliant with current building codes and FEMA standards, offering a sustainable, permanent solution to the current and near-term housing needs of New Orleans."
Click on the image below to read the entire article online.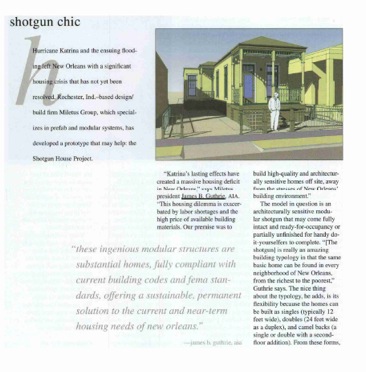 ---