Miletus Group's HPMO and Jobsite Leasing's Green Fleet was featured in Building Indiana News in an article about new mobile and modular solutions. Click on the image below to read the article online – page 58. According to Building Indiana, "Miletus Group and Jobsite Leasing Company have created the mobile office industry's first green options." For more on the project, link to our previous blog story here.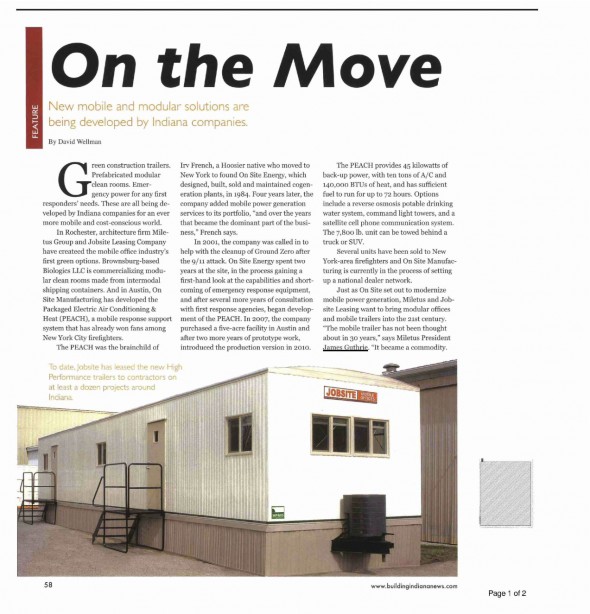 ---
At Miletus Group, we like to say, "just like LEGOs only bigger" when we try to describe modular building to people who aren't familiar with it. How appropriate then that LEGO has selected two architects to feature in their Architect series – Mies van der Rohe and Frank Lloyd Wright – who both embraced their modern methods of construction and made them into enviable art forms. (For more see our recent blog post, Mies vs. Modular.)
Mies van der Rohe's modernist masterpiece Farnsworth House joined the LEGO Architecture product line about a month ago. The Architecture line also includes Wright's Guggenheim Museum and Fallingwater.
LEGO Architecture is a collaboration between the LEGO Group and Chicago architect Adam Reed Tucker. It started as a pilot of 200 boxes in 2007. In 2010, international distribution started through LEGO online stores, brand retail stores and in a growing number of outlets around the world.
The actual Farnsworth House is located in Plano, Illinois, just outside Chicago. It was designed and constructed between 1945 and 1951 as a one-room weekend retreat for Dr. Edith Farnsworth, a prominent Chicago physician. Today, the house is a pilgrimage site for architects and designers worldwide, owned and operated by the National Trust for Historic Preservation in the U.S. The historic site is open to the public. We recommend a visit to this outstanding piece of architecture.
Mies van der Rohe is the second architect to be featured after Frank Lloyd Wright in Lego's 'Architect' series.
Like our friend Architect Barbie, (see our recent post on Barbie for more), LEGOS and other interactive toys bring the importance of design home and encourage boys and girls to dream about and participate in building a brighter future. Using modular blocks like LEGOs also fuels a child's imagination, just as imaginative minds in architecture today are fueled by the possibilities of modular construction methods.
© Miletus Group, Inc. 2011
---
Finland building professionals are on the leading edge in advancing integrated building processes and teams.
The Finnish software company Tekla is pushing the limits on their BIM (building information modeling) software. Tekla's software was originally intended for engineers so that they could improve their structural analysis, but as it developed it became a full-fledged BIM. Today contractors are also using it with the objective of planning and implementing efficient building processes. In Finland, though, they have taken yet another big step in bringing BIM into the complete integrated building process, which now includes the building materials supply chain.
James Guthrie, President of Miletus Group, Inc., was recently invited to Finland by BuildOffSite (UK) and Tekla to attend a series of seminars and field trips focusing on BIM and offsite construction there. The seminars were designed to show the state of the art in moving from BIM to BIM + Management (BIMM) and BIMM + Production (BIMMP). Tekla has been working closely with some of Finland's principle engineers, contractors and the building material suppliers to advance greater accuracy and quality in construction through integrated approaches in design, engineering, building product development, on site construction and, soon to come, subsequent facility management.
Neither Tekla's software nor the Finnish building teams have reached that full ideal yet, but the advances witnessed are impressive and very hopeful. The days of full implementation are not very far away.
Many architects and contractors are becoming familiar with the usefulness of BIM for providing sophisticated pre-building design and analysis, which leads to a more efficient and error free construction process. That, however, is just the beginning of where modern methods of construction are going.
During the seminars and tours, Finnish building teams demonstrated how they are integrating the total building process. Of particular note was the principle structural supplier Peikko. Peikko is supplying all of the vertical and horizontal structural components of a new 300,000 square foot shopping center now being built in Lahti, Finland.
Piekko has developed a clever integrated (steel & concrete) construction system that allows for a high degree of consistency in cross section sizing, and thus simple design consideration for length with a wide variant in strength capacity. Working with Tekla, they have also developed modeling components for the BIM environment. This means that they have essentially developed a building structural system that is virtually and actually prefabricated and componentized. This system ties the entire building process together, from first design idea through to construction. Using their system, the Tekla BIM model is easy to apply, production and construction are fast and accurate, and the end result quality is very high.
The progress being made in Finland is the promise of future efficiencies in modular and other prefabricated building systems. When a designer has flexible building systems built into their processes, and can be assured that the final building outcome will be as designed and of a high quality, prefabrication will truly become a critical part of the architectural tool kit. After generations of inefficient site built methods, this new comprehensive offsite thinking and full team integration is huge.
Related links:
BuildOffSite: www.buildoffsite.com
Tekla: www.tekla.com
Peikko: www.peikko.com
© Miletus Group, Inc. 2011
---