Miletus Group's innovative Hurricane Katrina housing solution, named The Shotgun Project, was featured in the May/June issue of Residential Architect. According to Residential Architect, "Hurricane Katrina and the ensuing flooding left New Orleans with a significant housing crisis that has not yet been resolved. Rochester, Ind.–based design/build firm Miletus Group, which specializes in prefab and modular systems, has developed a prototype that may help."
"These ingenious modular structures are substantial homes," Miletus president James B. Guthrie, AIA notes, "fully compliant with current building codes and FEMA standards, offering a sustainable, permanent solution to the current and near-term housing needs of New Orleans."
Click on the image below to read the entire article online.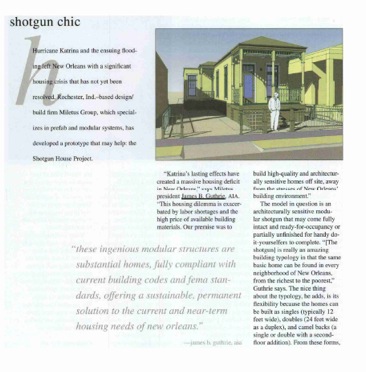 ---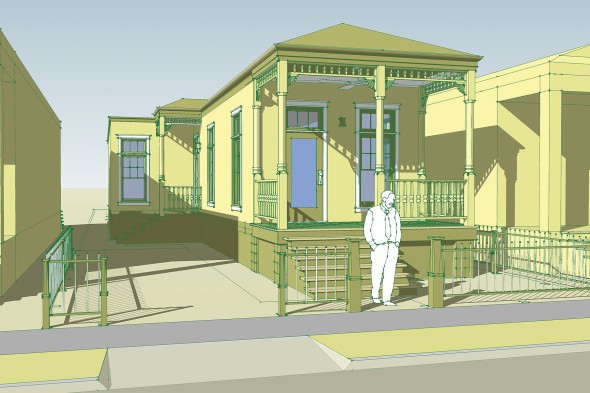 The modular design experts at architecture firm Miletus Group, Inc. have been selected by a prominent housing developer and landowner to develop their Shotgun House Project™—a historically and architecturally sensitive approach to quickly address New Orleans' post-Katrina housing crisis. After extensive project prototype work, the first Shotgun House model has been designed for an Uptown lot and is slated for completion this year.
Miletus Group's Shotgun Homes are architectural-quality, permanent modular buildings designed to fit into New Orleans' neighborhoods as if they had been there for a century or more. These ingenious modular structures are substantial homes, fully compliant with current building codes and FEMA standards, offering a sustainable, permanent solution to the current and near-term housing needs of New Orleans.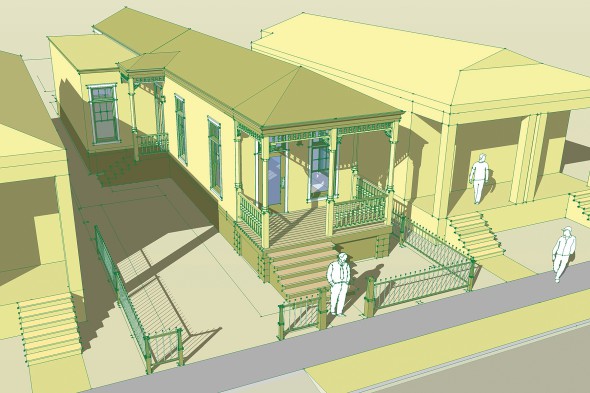 "Hurricane Katrina's lasting effects have created a massive housing deficit in New Orleans," states Miletus Group president James B. Guthrie, AIA. "This housing dilemma is exacerbated by labor shortages and the high price of available building materials. Our premise was to build high quality, and architecturally sensitive homes off site, away from the stresses of New Orleans' building environment. These modular buildings could then be put in place quickly, reducing time to occupancy, and alleviating much of the inconvenience and noise pollution in the neighborhoods where they are being constructed." Miletus is renowned for their sustainable building expertise, particularly in modular structures.
The Shotgun Project offers a variety of home options, from fully completed and ready-for-occupancy, to fully customizable homes that are left partially unfinished as a more affordable choice for more handy do-it-yourselfers in need of immediate shelter. "The innovative Shotgun House design recalls the past, while providing comfortable, modern housing for its occupants," states Guthrie. "It is a durable and permanent solution for a desirable housing type that is based on generations of New Orleans history and precedent."
For more information, contact Miletus Group, Inc.
© Miletus Group, Inc. 2011
---