AIA San Diego Modular Architecture Group
Brown Bag Meeting March 26, 2013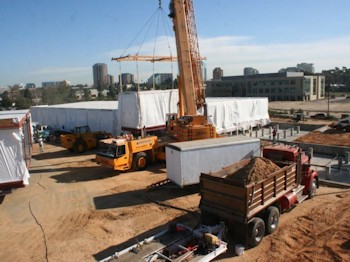 When a San Diego medical group wanted to expand their radiation oncology center, they sought speed and quality. To meet these goals they choose prefabrication.
AIA members are welcome to come hear about this impressive implementation of offsite construction from the client's perspective.
Mike Engel, AIA will share his experience on this project. Mike is currently the Healthcare Studio Director at avrpstudios in San Diego. Formerly, he was the project architect for the local medical group during the design and construction of this prefab project.
AIA members are welcome to join the meeting.
Brown Bag Roundtable: Modular Architecture
Tuesday, March 26, 2013 — 12:00 – 1:30PM
AIA San Diego Chapter Office
233 A Street, Suite 200, San Diego, CA 92101
http://www.aiasandiego.org
---